• preview • prices • quantity • restock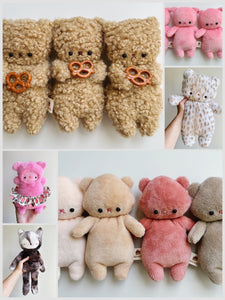 On Sunday 5/28 at 1pm EST I will be listing the following plushies:   1 XXL "Toasted Coconut" Teddy in Pecan Savannah fabric $275 2 Large Traditional "Smoky" Kitsunes in textured Hide Minky $185 2 Buttercup "Bubblegum" Piggies in Hot Pink Seal $240 3 Baby Cake Pop Piggies $125 3 Baby Cake Pop Pretzel Teddies $125 3 Baby Cake Pop Hamsters $125 *MYSTERY COLOR**All plushies are weighted *Plushies from this drop will ship on or before Monday 6/5  
---
• preview • prices • quantity • restock
On Sunday, 5/15 at 1pm EDT, I will list the following plushies in my shop:   4 XL Cake Pop Elephants in Turquoise Seal  300 2 XXL Mega Pop Cake Pop Teddies in Basil Seal  275 2 XL Cake Pop Strawbearies in Cardinal Seal  250 3 Mystery Green Color Play Size Frog Babies  150 3 TedHead Pillows in Natural Seal (listed individually)  150   All items are weighted Items from this restock will ship on or before Monday, 5/23
---
• preview • prices • quantity • restock
On Sunday 3/20 at 1pm EDT I will list the following plushies in my shop:   2 Seafoam Seal XXL Mega Pop Teddy  275 3 Elderberry Seal XL Cake Pop Bunny  250 4 Play Sized Lambs in swirl minky  150 4 MYSTERY NEUTRAL Regular Size Cake Pop Piggies  135 4 Bébé Baby Cake Pop Frog Babies  125 6 MYSTERY COLOR Baby Cake Pop Chicks  100   All items are weighted These items are scheduled to ship on or before Monday, March 28
---
• preview • prices • quantity • restock
On Sunday, 2/20 at 1pm EST, I will list the following plushies in my shop:   4 XXL Rose Quartz Seal Mega Pop Teddies $275 3 Medium Butter Pandas in Frosted Peach Minky $275 6 MYSTERY COLOR Fawn 7" Cake Pop Hamsters $135 4 Baby Cake Pop Lavender Piggies $100   All items are weighted These orders will ship on or before Monday, 2/28. Orders with suspicious navigation will be cancelled, please see my policies section for my details.  
---
• preview • prices • quantity • restock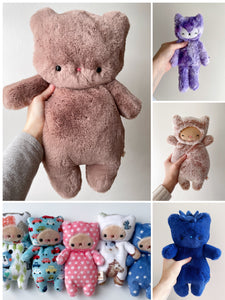 ***Please Note: this restock is only for customers who have not made a direct, retailed priced purchase from me in 2021 or 2022. If you are not eligible for this restock and you purchase anyway, your order will be cancelled immediately*** On Sunday 1/30 at 1pm EST I will list the following plushie in my shop:   3 XXL Pecan Taupe faux fur Mega Pop Teddies  $275 3 Medium Frosty Brown minky Butter Kitties $225 2 Extra Large Blue Bearie Seal Cake Pop Teddies $225  3 Play Size Purple Galaxy Minky Kitsunes $135 4 Mystery Color Baby Bébés weighted with micro beads $125...