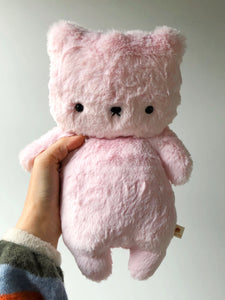 bijoukitty
Frosted Cake Pop Blush Pink
Regular price
$150.00
$0.00
CONGRATULATIONS! You have found a bijoukitty Easter Egg! Sometimes I like to list a special item with no announcement and see who finds them. Fun! This is yours to purchase, if you so choose! If this plush isn't your cup of tea, leave them behind for the next person to find. You may only purchase an Easter Egg once in a 30 day period.
This listing is for one Extra Large 12" Frosted Cake Pop in a pale Blush Pink velvet minky fabric. She has plastic safety eyes and a hand stitched mouth and nose in cotton embroidery floss. She is very soft and squeezable, perfect for blanket fort cuddles and tea party cameos. 
While she is perfect in her naked fluffiness, I will include one fleece sweater in maker's choice of color for some dress up fun. Ready to ship in 1-3 business days.